This article is about the growing trend of remote work and entrepreneurship in the vanlife community. As more and more people choose to live and travel in their vans, they are finding new and creative ways to make a living while on the road. In this article, we'll explore the benefits and challenges of working remotely from your van, as well as some inspiring stories of vanlife entrepreneurs who are making it work.
Vanlife is more than just a lifestyle choice – it's a way of embracing freedom, adventure, and a connection to the natural world. For many, the idea of leaving behind the trappings of modern life and hitting the open road in a cozy, self-contained van is incredibly appealing. But for those who need to earn a living, the question of how to make ends meet while living in a van can be a daunting one.
Fortunately, the rise of remote work and entrepreneurship has opened up new possibilities for those who want to live and work on the road. With a laptop and an internet connection, it's possible to run a business, work for a company, or freelance from just about anywhere in the world. In this article, we'll take a closer look at how vanlifers are taking advantage of these opportunities and making a living on the road.
The Benefits of Remote Work and Entrepreneurship in Vanlife
There are many advantages to working remotely while living in a van. For one thing, it allows you to be completely location-independent. You can work from anywhere with an internet connection, which means you can explore new places, chase the weather, and follow your whims without having to worry about how it will affect your job. You also have complete control over your schedule, which means you can work when it suits you and take time off when you need it.
Another benefit of remote work and entrepreneurship in vanlife is the ability to pursue your passions. When you're no longer tied to a 9-to-5 job in a fixed location, you have the freedom to create a career around something you love. Whether you're a writer, an artist, a photographer, or a yoga teacher, you can build a business or find work that aligns with your interests and values.
The Challenges of Remote Work and Entrepreneurship in Vanlife
Of course, there are also some challenges to working remotely while living in a van. One of the biggest is maintaining a reliable internet connection. While many areas have decent cell coverage, there are still plenty of places where you'll struggle to get online. This can make it difficult to meet deadlines, attend virtual meetings, and stay connected with clients and colleagues.
Another challenge is creating a productive work environment. When you're living in a small van, you'll need to be creative about carving out a space for work. This might mean working outside on a picnic table, setting up a desk in your van, or finding a co-working space in a nearby town. You'll also need to be disciplined about managing distractions and staying focused on your work.
Inspiring Stories of Vanlife Entrepreneurs
Despite these challenges, many vanlifers have found creative ways to make a living on the road. Here are a few inspiring stories:
The Nomadic Studio: This design studio is run by two architects who live and work out of their van. They travel all over the country, working on residential and commercial projects for clients across the US.
The Vanlife App: This app was created by a couple who live in a van and wanted to make it easier for other vanlifers to find resources and connect with each other. It's now a thriving community with thousands of users.
The Van Life Journal: This online publication was started by a writer who travels the country in her van, gathering stories and sharing insights on the vanlife lifestyle. She publishes articles, interviews, and reviews that cover a range of topics, from van build tips to the best spots for free camping.
The Vanlife Diaries: This social media platform was created by a couple who live in a van and wanted to share the stories of other vanlifers around the world. They now have a community of over 1 million followers on Instagram and have published a book about their adventures.
The Vanlife Chef: This chef travels the country in her van, offering private chef services, cooking classes, and pop-up dinners. She sources local and organic ingredients, creating meals that showcase the flavors of each region she visits.
These are just a few examples of the many vanlife entrepreneurs who are making it work on the road. By leveraging the power of the internet and embracing a flexible, location-independent lifestyle, they have created careers that allow them to live their best lives.
Tips for Working Remotely in Vanlife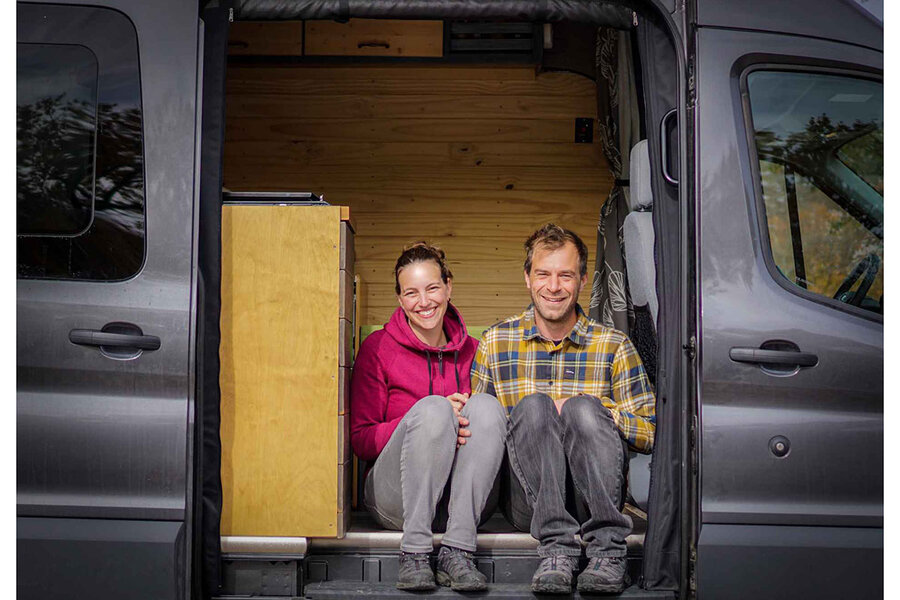 If you're thinking of pursuing remote work or entrepreneurship while living in a van, here are a few tips to help you get started:
Invest in a reliable internet setup. This might mean getting a cell booster, a satellite dish, or a mobile hotspot.
Create a dedicated workspace in your van. This could be a desk, a folding table, or even a lap desk. Make sure you have a comfortable chair and good lighting.
Establish a routine that works for you. Whether you're a morning person or a night owl, figure out the times of day when you're most productive and build your schedule around that.
Be prepared for the unexpected. Vanlife can be unpredictable, so have a backup plan in case of bad weather, mechanical issues, or other challenges that might arise.
Network with other vanlifers. There are plenty of online communities and social media groups where you can connect with other people who are living and working on the road.
Conclusion
Vanlife and remote work/entrepreneurship are a natural fit. By embracing a location-independent lifestyle and taking advantage of the opportunities offered by the internet, vanlifers can create fulfilling careers while also pursuing their passions and enjoying the freedom of the open road.
While there are certainly challenges to working remotely in a van, the benefits are many. With a little creativity, discipline, and determination, you can create a life that's both adventurous and financially sustainable.