In recent years, the vanlife movement has gained significant popularity as more and more people seek to simplify their lives and live with less.
Minimalist living
Minimalist living is a lifestyle choice that prioritizes simplicity, self-sufficiency, and sustainability. In the context of vanlife, it refers to the practice of downsizing your possessions and living a more stripped-down lifestyle while on the road. This can include everything from decluttering your living space to reducing waste and energy consumption to prioritizing experiences over material goods.
One of the key benefits of minimalist living in vanlife is the increased freedom and flexibility it provides. With fewer possessions to worry about, you have the freedom to travel and explore without being weighed down by a bulky home. Additionally, minimalist living helps you to focus on what's important, allowing you to prioritize your values and focus on what truly matters.
Another benefit of minimalists living in vanlife is its sustainability. By living with fewer possessions, you reduce your carbon footprint, minimize waste, and reduce your reliance on traditional systems of consumption. Furthermore, the self-sufficient lifestyle of vanlife allows you to live in a more sustainable way, reducing your impact on the environment and preserving the planet for future generations.
Finally, minimalist living in vanlife allows you to live a more intentional and purposeful life. By simplifying your possessions and focusing on experiences, you can create a life that is more meaningful, fulfilling, and connected. Whether it's traveling, exploring new places, or simply living more in tune with nature, minimalist living in vanlife provides a unique opportunity to live life on your own terms.
Overall, minimalist living in vanlife is a lifestyle choice that offers many benefits, including increased freedom and flexibility, sustainability, and a more meaningful and intentional life. Whether you are just starting out on your vanlife journey, or are a seasoned traveler, the principles of minimalist living are a great way to simplify your life and focus on what truly matters.
The vanlife lifestyle is a combination of travel and minimalism, allowing individuals to live on the road and embrace a simpler way of life.
The Origins of the Vanlife Movement
The vanlife movement can be traced back to the counter-cultural movements of the 1960s and 1970s when young people sought alternative ways of living that rejected materialism and consumerism. In the 1990s and 2000s, a new wave of vanlifers emerged and popularized the lifestyle through social media, blogs, and documentaries. Today, the vanlife movement has become a global phenomenon, with thousands of people around the world choosing to live in vans and explore the world on their own terms.
The Benefits of Minimalist Living
Minimalist living is the foundation of the vanlife movement, and it offers numerous benefits for those who embrace this lifestyle. By living with less, individuals can simplify their lives, reduce their environmental impact, and free up time and resources for things that matter most. Minimalist living also promotes self-sufficiency, creativity, and independence, as people learn to live with fewer resources and rely on their own skills and abilities.
Financial Freedom and Simplicity
Living in a van can be a cost-effective and sustainable alternative to traditional housing, allowing for financial freedom and simplicity. By eliminating rent, utilities, and other housing expenses, vanlifers can save money each month and invest in experiences, travel, and personal growth. Living in a van also simplifies life by reducing clutter and possessions, saving time, energy, and money.
A Closer Connection to Nature
Vanlife offers a unique opportunity for individuals to reconnect with nature and live a more sustainable lifestyle. By being on the road, vanlifers can experience the beauty of different landscapes and immerse themselves in nature in a way that is not possible with traditional housing. This close connection to nature can improve physical and mental well-being and promote a more sustainable way of life.
The Challenges of Vanlife
While vanlife offers numerous benefits, it also comes with its own set of challenges. Lack of privacy, limited space, and uncertainty about the future can all be difficult to deal with. Vanlifers must also learn to live with limited resources and deal with the practicalities of living on the road, such as finding places to park and access basic amenities.
The Future of the Vanlife Movement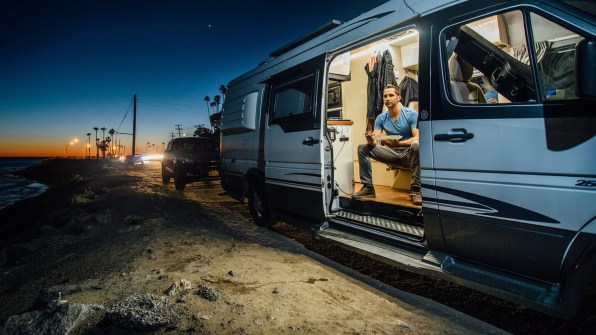 As the vanlife movement continues to grow, it is likely that we will see more and more people embrace this way of living. With advancements in technology and the increasing popularity of minimalist living, the future of vanlife looks bright. As more people adopt this lifestyle, it is likely that we will see a greater focus on sustainability, self-sufficiency, and community building within the vanlife movement.
Conclusion
The rise of the vanlife movement is a reflection of a growing trend towards minimalism and a desire for a simpler, more sustainable way of life. By living in a van and embracing minimalist living, individuals can achieve financial freedom, a closer connection to nature, and a more fulfilling life.
Despite the challenges, vanlife offers a unique and rewarding lifestyle that continues to grow in popularity. Whether you are a seasoned van lifer or just starting out, the vanlife movement offers a unique opportunity to simplify your life and experience the world in a new and meaningful way.
In conclusion, the vanlife movement and minimalist living go hand in hand, as they both promote a lifestyle of simplicity, self-sufficiency, and sustainability. Whether you are looking to travel, live a more sustainable lifestyle, or simply simplify your life, the vanlife movement has something to offer.
With its growing popularity and the increasing focus on sustainability, the future of vanlife looks bright, and it is an exciting time to be a part of this growing community. So if you are looking for a change and a new adventure, consider joining the vanlife movement and experiencing the benefits of minimalist living for yourself.