This article provides tips and tricks for winterizing your van for a cold-weather living, including insulation, heating, water management, and storage. With the right preparations, van life can be enjoyable even in the coldest months of the year.
For many van dwellers, winter is a challenging time of year. With colder temperatures and less daylight, it can be difficult to stay comfortable and stay on top of daily tasks. However, with the right preparations and equipment, it's possible to enjoy van life even in the dead of winter. In this article, we'll share some tips and tricks for winterizing your van for a cold-weather living.
The first step in winterizing your van is to insulate it properly. This will help keep the heat inside and prevent cold air from seeping in. There are a few different types of insulation you can use, including foam board, fiberglass, and spray foam. Each has its advantages and disadvantages, so do your research and choose the one that's right for you.
Windows:
Windows are one of the main areas where heat can escape from your van. To prevent this, consider installing window insulation film or using insulated curtains. You can also use draft stoppers to seal any gaps around your windows.
Heating:
A reliable heating system is essential for winter van life. There are several options to choose from, including propane heaters, diesel heaters, and electric heaters. Propane and diesel heaters are the most popular among van dwellers because they're efficient and don't require a lot of power. Electric heaters can work, but they drain your battery quickly.
Water Management:
Managing water is another challenge during the winter months. If you're in a cold climate, you'll need to prevent your water tanks and pipes from freezing. One option is to use an insulated water tank, and you can also insulate your pipes with foam pipe insulation. It's also a good idea to keep your water tanks as close to the heat source as possible.
Storage:
Winter gear takes up a lot of space, so it's important to have efficient storage solutions in your van. Consider using under-bed storage containers, hanging organizers, and wall-mounted shelves to maximize your space. You can also store your winter gear in vacuum-sealed bags to save even more space.
Cooking
Cooking in your van can be challenging during the winter months. To make it easier, consider using a propane or butane stove instead of an electric one. You can also invest in a portable oven or slow cooker to make warm, hearty meals.
Bathroom
If you have a bathroom in your van, you'll need to take some extra precautions to winterize it. Consider using an RV antifreeze in your toilet and black water tank to prevent freezing. You can also insulate your bathroom walls and use a space heater to keep it warm.
Electricity:
Keeping your van powered during the winter months can be a challenge. Solar panels are a popular option for van dwellers, but they may not be enough to power all of your appliances during the shorter days of winter. Consider investing in a generator or a secondary battery system to supplement your solar power.
Tires:
Winter driving can be dangerous if your tires aren't properly equipped for the conditions. Make sure your tires have good tread and are rated for winter driving. You can also consider using snow chains or studded tires for extra traction.
Ventilation:
Proper ventilation is important in any season, but it's especially important during the winter months when condensation can build up inside your van. Make sure you have a vent fan installed and use it regularly to circulate air and prevent moisture buildup.
Emergency Kit:
Winter weather can be unpredictable, so it's important to have an emergency kit on hand in case of a breakdown or other emergencies. Your emergency kit should include items like blankets, extra warm clothing, a first aid kit, flashlights, and extra food and water. You may also want to consider investing in a portable jump starter and tire chains.
Maintenance:
Keeping up with regular maintenance is important year-round, but it's especially important during the winter months. Make sure your engine is in good working order, your oil and fluids are topped off, and your brakes are in good condition. You should also check your battery regularly and keep it charged.
Parking: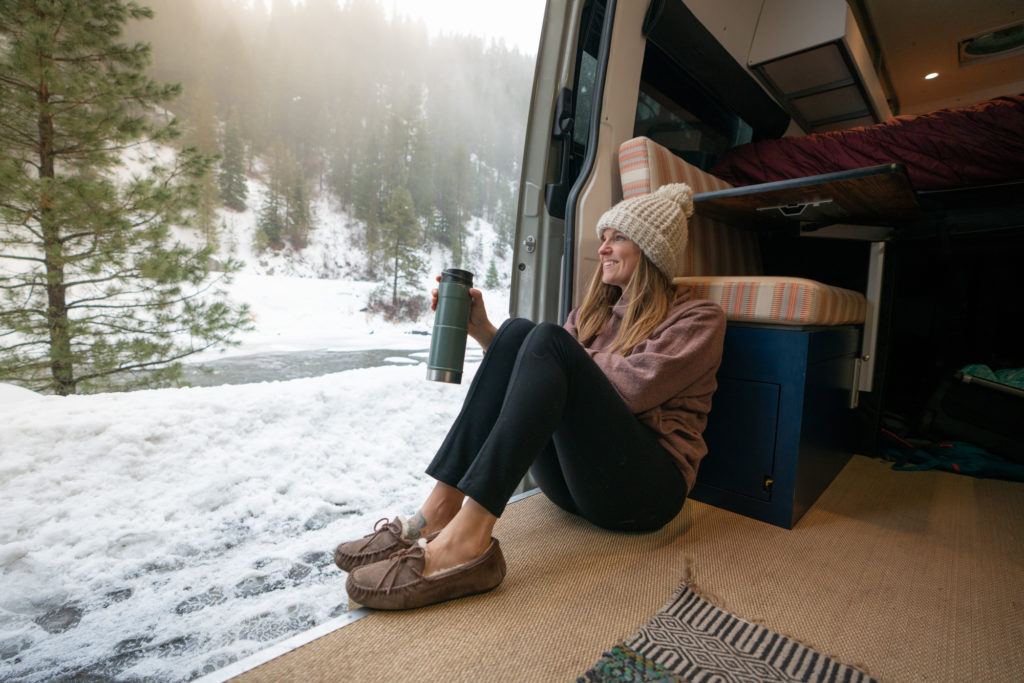 Finding a safe and comfortable place to park during the winter months can be a challenge. Look for spots that are sheltered from the wind and snow, and try to park on level ground to prevent your van from sliding. You may also want to consider staying at campgrounds or RV parks that offer amenities like electricity and showers.
Conclusion
Winterizing your van for cold weather living may seem like a daunting task, but with the right preparations and equipment, it's possible to stay comfortable and safe during the winter months. Insulating your van, installing a reliable heating system, and managing your water and electricity needs are all important steps to take. With a little bit of planning and preparation, you can enjoy the beauty and solitude of winter van life.